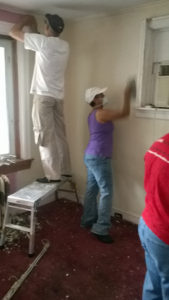 In conjunction with the First United Methodist Church of Germantown (FUMCOG), URDC will be organizing its first 2017 volunteer service day on Saturday, 6/17. Come join us!
URDC's Volunteer Service Days are special days sponsored by URDC and local churches where church members and others in the community spend a few hours helping low-income and elderly homeowners with indoor repairs such as painting, sheet rock, cleaning, woodwork, plumbing, and gardening. The day gives volunteers the chance to personally make a difference in improving the safety, health, and quality of the lives of those in the community who need help.
The day will be FUMCOG's fifth annual Marion Taylor Work Day as a memorial to Marion Taylor, a former FUMCOG member and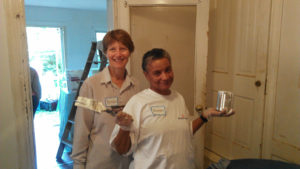 URDC staff who helped thousands of community homeowners through her hard work, perseverance, faith, and advocacy. It will run from 8:00 AM to 3:00 PM and no special skills are needed to volunteer. To volunteer, visit URDC's website, call URDC at 267-289-2159 or email at  info.urdc@gmail.com.
http://buildgermantown.org/wp-content/uploads/2017/03/URDC_LogoTag.png
0
0
MichaelAlbany
http://buildgermantown.org/wp-content/uploads/2017/03/URDC_LogoTag.png
MichaelAlbany
2017-04-06 19:22:56
2017-05-03 12:04:57
JOIN URDC FOR ITS NEXT VOLUNTEER DAY ON JUNE 17