East Falls Presbyterian Church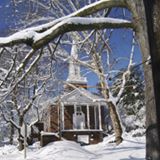 has become URDC's twelfth congregation member!  The church is located at 3800 Vaux Street, 19129 and learned about URDC earlier this year through its Owner Occupied Home Repair Program. The Church's mission "is to spread the message of salvation through the guidance of the Holy Spirit and the love of Jesus Christ to our neighbors in the community of East Falls and beyond."
East Falls Presbyterian has a very active outreach program. It's Mission Committee, called "The Mission Monsters", participates in the Northwest Philadelphia Hospitality Network as well as many other efforts in the community, including:
Food and household item collections and donations to the Northlight Community Center.
Serving and attending at the "No Barriers Dinner" at Broad Street Ministries.
Hosting dinner for 90 people during their stay at Ronald McDonald House.
Food drives for Philabundance.
East Falls Presbyterian Food Closet.
Annual school supply collection for Mifflin Elementary School.
Supported the Adopt-a-Chaplain program by sending care packages of candy, toiletries, school supplies and flip-flops to a U.S. Army chaplain to aid U.S. soldiers and Iraqi school children.
Raised over $700 for the Northlight Community Center's food cupboard through the 2010 Walk Against Hunger.
Julia Haines and Meghan Goddard will represent East Falls Presbyterian Church on URDC's Board of Directors. URDC welcomes them and East Falls Presbyterian Church!